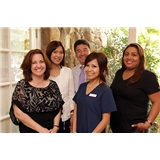 At David C. Suh DDS, our priority is to deliver quality care to informed patients in a comfortable and convenient setting.
*What Quality Care Means to Us*
When you have cosmetic dentistry needs, you want to turn to a professional who listens and responds … an experienced doctor who knows the field and can effectively diagnose and treat your needs … a friendly physician who counsels you on the best ways to maintain and improve your health. Our staff meet all these criteria. Plus, you benefit from a dedicated team of trained professionals who give you the individualized attention you deserve.
*Informed Patients*
David C. Suh DDS believes that informed patients are better prepared to make decisions regarding their health and well being.
*Comfortable, Convenient Setting*
At David C. Suh DDS, we strive to make our Lomita office as efficient and convenient as possible.
Location
25609 Narbonne Ave
Lomita, CA 90717
In-Network Insurances
Aetna
Ameritas
Anthem Blue Cross
25609 Narbonne Ave
Lomita, CA 90717