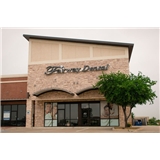 If you're looking for quality family dental care, cosmetic dentistry or more complex procedures like implants in a friendly, caring environment, look no further than Fairway Dental in Carrollton, Texas. At our practice, Dr. Pérez and our team of professionals offer our patients exemplary modern cosmetic, implant and restorative treatment with a personal touch.
We know there are dozens of reasons you may be looking for a dental practice. Perhaps you have missing teeth and or are unhappy with your smile. Maybe your dental care is complicated by trauma, disease, or other medical conditions.
Perhaps you are searching for cosmetic or restorative services from someone who has the extensive training to help educate and guide you through treatment options. Or you're a dentist who wants to refer a patient with complex treatment needs. No matter who you are, how old you are, or what state your teeth are in, the professional team at Fairway Dental can help you.
Location
1616 W Hebron Pkwy
#100
Carrollton, TX 75010
In-Network Insurances
Aetna
Ameritas
Blue Cross Blue Shield
1616 W Hebron Pkwy
#100
Carrollton, TX 75010