Family Chiropractic Group / San Ramon Spine Sport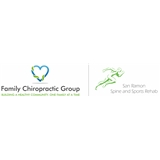 Dr. Sarbjit "Sarb" Dhesi is a chiropractor serving San Ramon and the surrounding area. Dr. Dhesi and the rest of the welcoming team at San Ramon Spine and Sports Rehab / Family Chiropractic Group are committed to providing spine and sports rehab solutions to address your unique needs, whether you are experiencing back pain, neck pain, headaches, elbow pain, shoulder pain or even muscular tightness and tension. You may be searching for pain relief after an accident, experiencing an injury, or a specific condition like chronic back pain or a spinal condition. Even if you looking to improve your overall health, Dr. Dhesi and staff can help you attain your everyday wellness goals!

Read our testimonials page to find out what our patients are saying about our Dr. Dhesi and his care.

If you don't find hours available online, give us a call and we can get you setup asap. Housecalls Available.
Location
1081 Market Place
Suite 100
San Ramon, CA 94583
In-Network Insurances
AARP
Aetna
Anthem Blue Cross
1081 Market Place, Suite 100
San Ramon

,

CA

,

94583