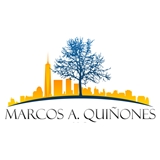 Marcos A. Quinones, LCSW.
In-network insurances
AARP
Aetna
Anthem Blue Cross
Practice statement
Hello. It's my pleasure to welcome you. My name is Marcos and I'm a psychotherapist and life coach with one goal: to help you take action and create the change you desire in life. What I do. As a life coach, I guide you through an actionable approach that I created from 12 years of practicing solution-based therapies. Couple's therapy/relationship coaching is my specialty, but I've also successfully helped clients apply the approach for aging issues, career transitions, addictions, relationship issues, loneliness, and social anxiety. What to Expect: The process is like learning to drive. As long as you're committed to the program and want to sit in the driver's seat, I guarantee a patient and willing instructor by your side.
Office location
115 Broadway, Suite 1800
New York, NY 10006
Office location
115 Broadway, Suite 1800
New York, NY 10006