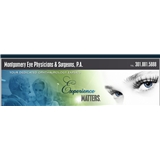 Montgomery Eye Physicians & Surgeons
Practice statement
Montgomery Eye Physicians & Surgeons are committed to providing you with the highest quality and most comprehensive medical and surgical eye care available in a warm and caring atmosphere. Our physicians are board certified ophthalmologists whose offices have been established in Montgomery County for over 40 years. With offices in Rockville and Gaithersburg.
Office locations
11140 Rockville Pike, Suite 450
Rockville, MD 20852
1 Bank Street, Suite 220
Gaithersburg, MD 20878
Office locations
This practice sees patients at 2 locations.
11140 Rockville Pike, Suite 450
Rockville, MD 20852
1 Bank Street, Suite 220
Gaithersburg, MD 20878