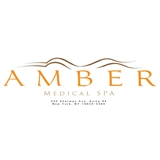 Amber Medical Spa is an elegant, intimate, medical and health care spa located in New York City. All of our services are designed to beautify your skin, nourish your soul and enhance your natural beauty. Likewise, we have the skills and techniques to gently improve and relax your appearance in a relaxed environment with minimal time spent away from your normal activities. A visit to Amber Medical Spa inspires the beginning of a healthier life journey, where beauty is a synonymous of your own name.

From stress reduction, to the slowing and reversing of aging, the healing hands of our physicians, skilled therapists and nurses welcome you to experience the unique world of Amber Medical Spa. At Amber Medical Spa we want to give you the best of both worlds: a serene and soothing spa environment and the hygiene and safety of a medical facility. Doctor Patria González has carefully reviewed the scientific basis of every treatment that we offer to be certain that you will get your best results with minimal risk and downtime, to create lasting improvements in your appearance and well-being – safely and effectively.

Your treatments will be personalized to your specific concerns and preferences and concerns. For instance, if you are trying to slim down, you may choose to do it through a personalized diet and exercise program with a customized diet plan and help of our personal trainers under physician's supervision, with or without help of a selection of medical aesthetic procedures that may speed-up the process; or you may use our state of the art gym facilities to improve your physical abilities and exercise performance, with or without help of our personal trainers.

If you wish to improve the appearance of lines and wrinkles, we may help you with the use of minimally invasive medical aesthetic procedures with use of injected Botox and soft tissue fillers. However, if you prefer to avoid injections our laser and radiofrequency treatments and chemical peels can soften lines and wrinkles and create a more youthful appearance. Or you may have time or budget pressures that have to be taken into account.

No matter what your specific situation, we can design a treatment plan that will help you meet your needs.
Our highly trained staff is here to help you every step of the way.
Location
232 Sherman Ave
New York, NY 10034
Specialties
Primary Care Doctor
Internist
In-Network Insurances
1199SEIU
Aetna
Affinity Health Plan
232 Sherman Ave,
New York

,

NY

,

10034