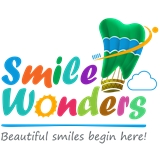 Together, our goal at Smile Wonders Pediatric Dentistry is to help you and your child develop a positive attitude about dental care. We do this by providing a relaxed, supportive and fun environment for both the child and the parents that eliminates uncertainties and helps kids understand the importance of taking care of their teeth. We also believe that education is the key to a lifetime of good oral health. Our caring Reston pediatric dentists work with parents to help you understand and best address your child's dental needs, such as nutrition, brushing and flossing.
Location
11790 Sunrise Valley Dr.
Suite 105
Reston, VA 20191
11790 Sunrise Valley Dr.
Suite 105
Reston, VA 20191