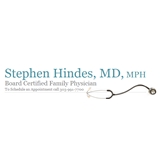 Stephen Hindes, M.D.
Specialties
Family Nurse Practitioner
Nurse Practitioner
Primary Care Doctor
Practice statement
The office of Stephen Hindes and Lily Juan is located across the street from Swedish Hospital, we have rapid access to x-ray machines and other diagnostic testing, and to specialists in the immediately adjacent medical office buildings. We practice Family Medicine. Family Medicine is a specialty of medicine dedicated to the entire family, so we see children and adults. We are trained to do an excellent job diagnosing and treating 90% of what occurs to most families and to refer to specialists as needed.
Office location
300 E Hampden Ave, Suite 201
Englewood, CO 80113
Office location
300 E Hampden Ave, Suite 201
Englewood, CO 80113