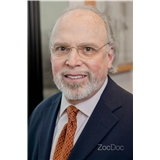 --DR. LUSTIG DOES NOT PARTICIPATE IN ANY INSURANCE PLANS--

For 43 years, Dr. Lustig has provided private outpatient psychiatric treatment to Children, Adults & Families who were experiencing difficulty with the quality of their functioning or with the environment in which they found themselves.

In addition to performing a short consultation or a comprehensive diagnostic evaluation, Dr. Lustig offers his patient a broad range of treatment modalities –- including time-limited psychotherapies, longer-term psychotherapy or the prescribing of psychiatric medications when indicated.

Dr. Lustig engages his patient in a confidential collaboration that is tailored to the patient's unique circumstances and skills, and in which the patient makes informed decisions about the kinds of treatment that they receive.

Dr. Lustig schedules all office visits, and handles all phone calls and paperwork.
Location
15 Presidential Blvd.,
Suite 203,
Bala Cynwyd, PA 19004
975 NJ Route 73 North
Greentree Commons, Suite A
Marlton, NJ 08053
Specialties
Psychiatrist
Child and Adolescent Psychiatrist
In-Network Insurances
This doctor is not in any insurance networks.
Child and Adolescent Psychiatrist
Read reviews
Specialties
Psychiatrist
Child and Adolescent Psychiatrist
15 Presidential Blvd.,, Suite 203,
Bala Cynwyd

,

PA

,

19004
975 NJ Route 73 North, Greentree Commons, Suite A
Marlton

,

NJ

,

08053