Jeffrey L. Halbrecht, M.D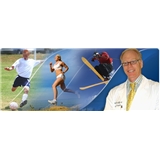 Dr Halbrecht is a nationally respected Orthopedic Surgeon and Sports Medicine specialist with 20 years of experience caring for bone and joint injuries. He is the Medical Director for the Institute for Arthroscopy and Sports Medicine (IASM), located in San Francisco.

IASM's innovative research and surgical techniques have attracted patients from all over the world seeking state of the art treatment and rehabilitation.
Location
2100 Webster Street
Suite 331
San Francisco, CA 94115
Specialties
Sports Medicine Specialist
Orthopedic Surgeon
In-Network Insurances
AARP
Accountable Health Plan of Ohio
Advantage Health
Orthopedic Surgeon
Read reviews
Specialties
Sports Medicine Specialist
Orthopedic Surgeon
2100 Webster Street, Suite 331
San Francisco

,

CA

,

94115